Master Internet marketers like Marketing Sherpa have published major studies that establish how a five-minute response to a prospect through a web inquiry tremendously enhances the opportunity of converting that visitor into a customer.

Likewise, advanced statistical data provided by ILoveLeasing.com prospect engagement and advertising analysis concludes that responding to an online prospect within two hours increases the opportunity for a lease conversion by 576% and for making an appointment by 351%. You may request this entire case study by clicking ILoveLeasing Case Studies.
Here is how it works—this real-time chat event resulted in an actual lease: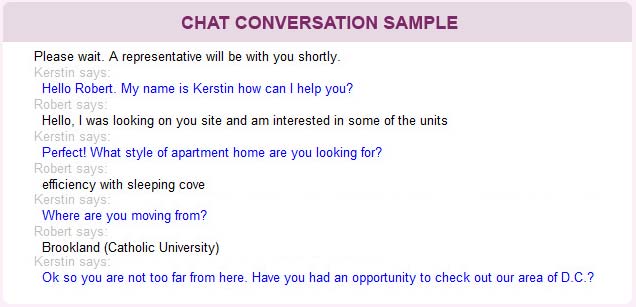 Connect with your prospects in real time for only $25 per month—less expense than a delivery of clubhouse doughnuts?and skinny on the budget with instant rewards!
In addition, Chatkast provides advanced user and prospect behavioral statistics.